College life prepares our boys and young men for a future in a globally connected and ever evolving world. As a school for boys we offer an engaging and supportive environment where students explore their values, establish a foundation for making responsible decisions, explore their own definitions of self, learn to forge healthy relationships, contemplate who they are and who they want to become as a person and are invited to step out of their comfort zones and explore their full potential. Stannies understands and celebrates boys, seeks first to empower good men, understands and knows that boys develop and learn in different ways, teach in ways that boys learn best, helps students discover and explore their full potential, fosters brotherhood and lifelong friendships.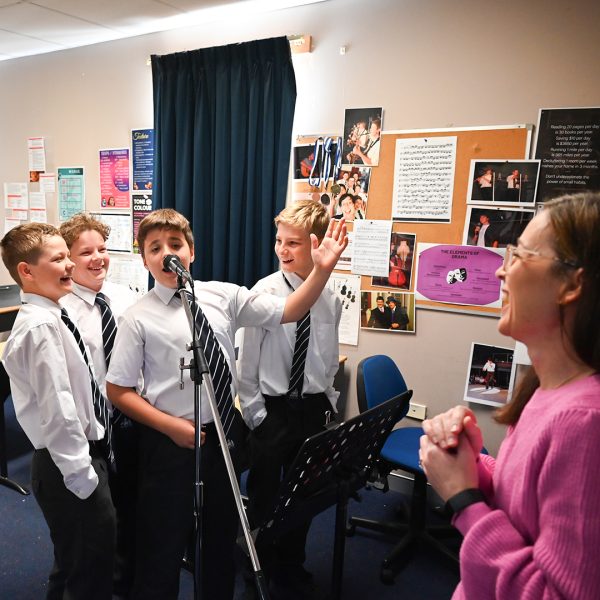 Our education framework aims for high performance pedagogy and outcomes. At Stannies we aim to educate the whole person. Our Transformative Learning philosophy is about building individual strengths in our students. A keystone to our learning culture and embedded in all teaching faculties is the 4C's Learning Disposition commonality of creativity, critical reflection, communication and collaboration.
Junior School - Years 7 to 9
Learning to Learn (L2L) is our unique Stannies Junior School program aimed at encouraging enthusiastic and motivated learners. Transition to High School commences in Year 7 where students are assigned the one teacher for key subjects: Civics (History and Geography) and Learning to Learn, Technology, Engineering and Maths (STEM), Personal Development, Health and Physical education (PDHPE) and Religious Education. This focus allows teachers to learn about the individual, to get to know a student's strengths and areas for improvement, likes and dislikes and to support each student in the best way possible. This is followed by How We Learn, Literacy and Numeracy Skills and Creativity, Activity, Service modules. Junior years Science, Technology, Engineering and Maths (STEM) is problem solving in action. The Learning to Learn Program is designed to develop positive learning belief sets: Focus on learning versus the work, teach for understanding versus knowledge, encourage deep versus surface learning strategies, promote independence versus dependence, develop a growth versus a fixed mindset.
Part of our Elevate Program, Unleashing Brilliance, is an extension program for students in Years 7 to 9. The aim of Unleashing Brilliance is for students to be provided with the opportunity to immerse themselves in a challenging project to deepen their understanding and build on an area of individual student interest. The students have the option to co-design their project with a group of peers or work individually to extend on the transferable skills of critical thinking, collaboration, communication and creativity: Stannies 4Cs learning framework. Students bring with them a willingness to challenge themselves and grow, both academically and personally. The program also assists participants to develop and model leadership skills, build mutually beneficial learning relationships, and benefit from collaborating with others to plan, develop and create. As an additional learning experience alongside the academic curriculum, students need to demonstrate strong organisational and time management skills to incorporate this project into their school commitments and assessments. The Unleashing Brilliance program begins at the end of Term 1 and students work towards an exciting interdisciplinary project to be revealed in Term 3. The Unleashing Brilliance program is an exciting opportunity for the students to extend their learning past the regular curriculum and develop critical thinking skills.
Senior School - Years 10 to 12
Year 10 marks the commencement of leadership roles and responsibilities for our students, with a deeper focus on personal skills development, challenges and reflection. This year group take on a diverse range of co-curricular projects reflective of our Vincentian Charism and House Values. All students find their place to contribute in their own way. As students start thinking about life after school, decisions are made for subject selection and career pathways. Each student undertakes the Stannies Career Program for Years 10, 11 and 12.
A keystone of our Elevate learning program, Project Inspire, is a Stannies and Mackillop College co-educational, co-curricular, talented and gifted program for self-selected Year 10 students. The program offers an opportunity of 'advanced study' in a specialist subject area. Whilst our main academic goal is to obtain knowledge, Project Inspire students work with a Mentor in developing a project where the goal is to contribute knowledge to a field of study. Project Inspire Mentors create a professional training environment where students learn the skills to be successful in their fields and gain an understanding of how their disciplines work. At Stannies, we understand that students' career goals are evolutionary and Mentors can assist students with the evolution of their professional career goals. Mentoring provides an opportunity for knowledge and skills sharing as well as professional socialisation and personal support. Students work in teams and at the conclusion of a three-month mentoring program present their real-world projects to an audience of peers, mentors and College staff.
Empowering Good Men, Empowering Strong Leaders Program
This program has been developed to support our students in their development as young men. This is done through modelling ethical, responsible and caring behaviour and teaching good character. Our Year 11 students are an integral part of the success of this program as they guide the younger boys through these key character values. For Years 8 and 10 we also include a guest speaker in the program, which is completed over two intensive days. Each program requires the boys to critically reflect on their own character and challenge themselves to contribute to the College community and the broader community in a positive way.
| Theme | Year 7 | Year 8 | Year 9 | Year 10 |
| --- | --- | --- | --- | --- |
| | Friendship, Relationships, Mateship | | Courage, Confidence, Assertiveness | |
| | | Self-discipline, Gratitude, Humility, Zeal | | Resilience Manhood, Commitment |
| | | | Modelling Leadership, Approachability | |
Embedded throughout the program as reflection
Respectful and Responsible Learners
Social Justice, Compassion, Empathy, Advocacy, Love
What is a 'Stannies Man'? What is unique about our own context
St Stanislaus' College has long been renowned for providing an excellent Catholic secondary education for boys according to the tradition of St Vincent de Paul.
Applications are welcome from families of all faiths who identify with and support the aims of education within a Vincentian school. We look forward to hearing from you.